Love is Love!!
Call or text 919.345.4608
Kayelily was conducting same-sex commitment ceremonies and holy unions many years before the US came into the 21st century with the landmark SCOTUS decision for Marriage Equality.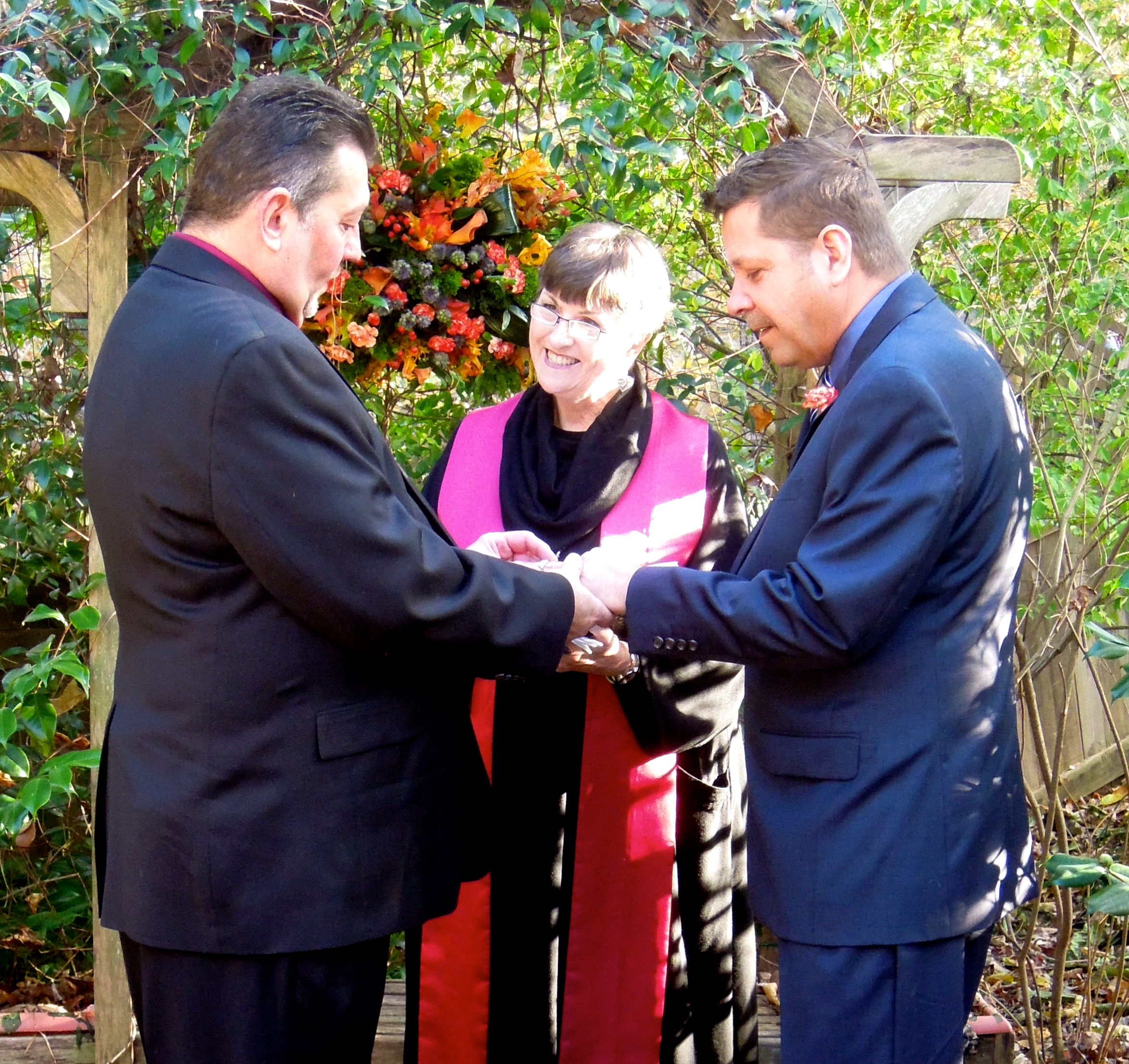 Congratulations to Michael and James! Married after 25 years together.
Kayelily's Wedding Garden, N. Raleigh NC
Steve and Jim's Wedding
Their very closest friends gathered In their lovely backyard.
To honor Steve's Jewish heritage we included the breaking of the glass at the end.
The yarmulkes went flying during the hug!
Tenita and Christina's Enchanted Wedding
The setting was Het Landaus in Pittsboro, Christina's parents' home and wedding venue.
Such sweet women so much in love!
Lisa and Meredith Tie the Knot!
An intimate wedding with their kids, family and friends in Kayelily's Wedding Garden.
Antonio and Brian's Wedding at Lake Johnson Park
They read their vows to each other from Kayelily's book then exchanged rings.
One last photo with Kayelily then the jackets come off in this hot steamy summer weather!
Mark and John's Commitment Ceremony
This wedding was before same gender marriages were legalized however, it was a wonderful celebration of their love and commitment nevertheless.
When the law changed, Mark and John hopped right down to the courthouse and made their marriage legal!
A couple of really handsome happy guys!
Melissa and Terri's Wedding at Portofino
Because the wind was blowing so hard, the ceremony was moved inside the horse barn. Their horse Rebel was in the stall next to us!
James and Jhon's wedding at Rose Hill Plantation!
Bilingual ceremony with simultaneous translation.
If you know your date/time/venue, it is time to book your officiant, the only vendor legally required at your wedding.
Don't wait, the best wedding Officiants book up fast!